Saúde Web 2.0 e comunicação em saúde: a participação em comunidades virtuais em Portugal
Palabras clave:
e-health; e-saúde; comunicação em saúde; redes sociais na saúde; comunidade virtual de doentes; qualidade na saúde; doença crónica
Resumen
O aparecimento da Web 2.0, a criação de comunidades virtuais de doentes (CVdD)
e a interação entre os doentes no ciberespaço estão a revolucionar os sistemas de
saúde . O presente estudo exploratório e descritivo, ana lisa este fenómeno em
Portugal através um estudo qualitativo, pioneiro em Portugal, e apresenta as principais
razões do aparecimento destas comunidades. Conclui-se que as principais
motivações para os doentes procurarem estas comunidades são: o tempo reduzido
das consultas com o médico; a falta e/ou incompreensão da informação transmitida
no encontro interpessoal com o médico; a solidão; o estigma e a exclusão social. É
uma percepção unânime entre os doentes crónicos que participaram no estudo que
a participação nesta s com unidades virtuais é complementar ao apoio e cont acto
presencial; que o apoio virtual entre pares melhora a relação médico-doente, tornando
o doente mais participativo na toma da de decisão sobre a sua saúde e que são
geradoras de uma melhor literacia em saúde . De acordo com os participantes no
estudo as principais limitações para o desenvolvimento de comundiade s virtuais
incluem as seguintes noções: o digi tal divide e discrimina; os perigos de
automedicação; a possivel divulgação de informação incorrecta e a inexistência de
critérios de qualidade para sítios Web sobre saúde.
Descargas
Los datos de descargas todavía no están disponibles.
Citas
Bell, Judith. (2002). Como realizar um projecto de investigação. 2ª Edição. Colecção: Trajectos nº 38. Lisboa: Publicações Gradiva Publicações lda.
Camerini, Luca; Diviani, Nicola e Tardini, Stefano. (2010). Health Virtual Communities: Is the Self Lost in the Net? Social Semiotics. Vol. 20, nº 1, pp. 87-102.
Comissão das Comunidades Europeias. (2002). Comunicação da Comissão ao Conselho, ao Parlamento Europeu, ao Comité Económico e Social e ao Comité das regiões: eEurope 2002: Critérios de qualidade para sítios Web ligados à saúde. Bruxelas. Recuperado em 01 de Novembro 2010 de http://ec.europa.eu/information_society/eeurope/ehealth/doc/communication_acte_pt_fin.pdf
Christakis, Nicholas A. (2010). The Hidden Influence of Social Networks. Consultado em 01 de Outubro 2010. Disponível em http://www.ted.com/talks/nicholas_christakis_the_hidden_influence_of_social_networks.html
Eysenbach, Gunther. (2003). The Impact of the Internet on Cancer Outcomes. CA A Cancer Journal for Clinicians. Vol. 53, nº 6, pp. 356-371.
Eysenbach, Gunther. (2008). Medicine 2.0: Social Networking, Collaboration, Participation, Apomediation, and Openness. Journal of Medical Internet Research. Vol. 10, nº 3: e22. Consultado em 14 de Dezembro de 2009. Disponível na http://www.jmir.org/2008/3/e22
Ferguson, T. (1997). Health Care in Cyberspace: Patients Lead a Revolution. The futurist. Vol. 38, nº 2, pp. 32-38.
Finn, Jerry. (1999). An Exploration of Helping Process in an Online Self-Help Group Focussing on Issues of Disability. Health and Social Works. Vol. 24, nº 3, pp. 220-231.
Flick, Uwe. (2005). Métodos qualitativos na investigação cientifica. Lisboa: Monitor.
Ishikawa, Hirono e Yano, Eiji. (2008). Patient Health Literacy and Participation in the Health-Care Process. Health Expectations. Vol. 11, nº 2, pp. 113-122.
Krichmar, Diane e Preece, Jenny. (2005). A Multilevel Analysis of Sociability, Usability, and Community Dynamics in an Online Health Community. ACM Transactions on Computer-Human Interaction. Vol. 12, nº 2, June 2005, pp. 1–32.
Moreira, Paulo J. (2010) Health literacy: A new dimension for healthcare development? Journal of Management & Marketing in Healthcare. Vol. 3, nº 4, December 2010, pp. 239-240.
Owen, Jason E.; O´Carrol Bantum, Erin e Golant, Mitch. (2009). Benefits and Challenges Experienced by Professional Facilitators of Online Support Groups for Cancer Survivors. Psycho-Oncology. Vol. 18, nº 2, pp. 144-155.
Patton, Michael Quinn. (2002). Qualitative Research & Evaluation Methods (3rd Ed.). Thousand Oaks California: Sage.
Smith, Kirsten P. e Christakis, Nicholas A. (2008). Social Networks and Health. Annual Review of Sociology. Vol. 34, pp. 405-429.
Turato, E.R. (2005). Métodos qualitativos e quantitativos na área da saúde: definições, diferenças e seus objetos de pesquisa. Revista de Saúde Pública. Vol. 39, nº 3, pp. 507-14.
Van Uden-Kraan, Cornelia F.; Drossaert, Constance H.C.; Taal, Erik; Seydel, Erwin R. e van de Laar, Mart A.F.J. (2009). Participation in Online Patient Support Groups Endorses Patients´ Empowerment. Patient Education and Counselling. Vol. 74, nº 1, pp. 61-69.
Vilares, Manuel J. e Coelho, Pedro S. (2005). Satisfação e Lealdade do Cliente – Metodologias de Avaliação e Análise. Lisboa: Escolar Editora.
White, Marsha e Dorman, Steve M. (2001). Receiving Social Support Online: Implications for Health Education. Health Education Research. Vol. 16, nº 6, pp. 693-707.
Yin, Robert K. (2009). Case Study Research: Design and Methods (4th Ed). Los Angeles: Sage.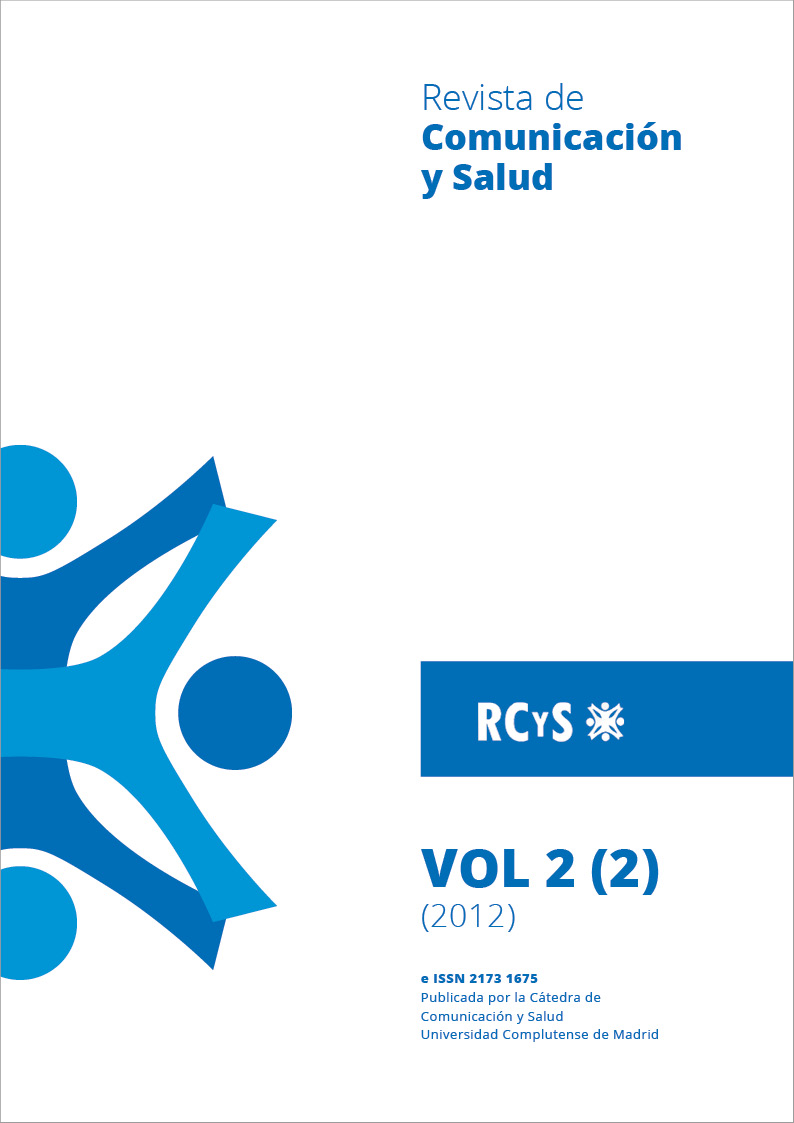 Descargas
Cómo citar
Moreira, P. . J. ., & Pestana , S. C. . (2012). Saúde Web 2.0 e comunicação em saúde: a participação em comunidades virtuais em Portugal. Revista De Comunicación Y Salud, 2(2), 47–62. https://doi.org/10.35669/revistadecomunicacionysalud.2012.2(2).47-62
Licencia
Nota aclaratoria: A partir de 2023, RCyS se rige con base en la Licencia Creative Commons Atribución-NoComercial 4.0 Internacional (CC BY-NC 4.0)
Los artículos de 2011 a 2022 están bajo una Licencia de Creative Commons CC BY 4.0 que permite copiar y redistribuir el material en cualquier medio o formato, remezclar, transformar y construir sobre el material para cualquier fin, incluso comercial.
Asimismo, informamos de que RCyS está adherida a la Declaración de Berlín.